Brief Scope of PMC Services
Provide Engineering Staff
Arrange to conduct at suitable intervals site coordination and progress review meeting
Prepare the cost estimates as per the detailed drawings and current market prices.
To assist Client in release of the LOI/PO/Agreement.
Bottleneck identification & trouble shooting and take necessary corrective measures.
To prepare exhaustive list of snags and get them attended before release of final payment to the contractors.
To prepare 'Project Master Schedule', monitor & advice on necessary areas for achieving the target dates.
To assist Client/Architect in sourcing various consultants, contractors, vendors & suppliers
To prepare the contract documents and BOQ.
To co ordinate and ensure timely release of drawings, decisions, Materials, payments to all the contractors/vendors.
Reporting to Client on the salient aspects of the project once every month in a predefined format, customized to client expectations.
Issue interim payment certificate to the Contractor's R.A. bills.
MEETINGS & PRESENTATIONS
The first step is to understand the needs of the residents and study the plot. We follow it up with a brief presentation about the redevelopment overview. This includes the layout, draft plans, commercial terms, timelines, specifications, shifting arrangements  and documents required.
SHIFTING OF RESIDENTS AND DEMOLITION
When commercial terms have been fulfilled, the residents are shifted into rental apartments. The building is thus ready to be handed over for redevelopment. The process of redevelopment will be initiated and completed as per the sanction plan.
FINAL PLAN & SANCTIONS
The project plan is reworked to fit in the requirements of the members. A final draft of the techno commercial plan with building sketches and legal agreements is presented to the committee. This is followed by obtaining sanctions from the Municipal/Local
authorities.
PROJECT COMPLETION & HANDOVER
Once the building is ready as per the architectural assessment, aspects such as finishing, inspection and various other installations will be looked into thoroughly. The occupation as well as completion certificate gets cleared and the building is handed over to the residents with respective induction.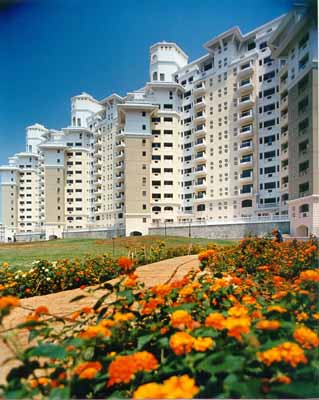 What is Project Management
Technique of understanding the problems, needs and controlling the use of Resources, Cost, Time, Scope and Quality.
Application of Knowledge, Skills, Tools and Techniques of project activities in order to meet stakeholder needs & expectations from a project.
Completion of Project on Time within Budget without comprising Quality.